A Step-By-Step Guide To Store Permanent Account Number (PAN) With DigiLocker
Subscribers can now integrate their Permanent Account Number (PAN) with DigiLocker, a government platform for issuance and verification of documents and certificates that allows users to store and access electronic versions of their certificates.  Subscribers can now easily access their real-time PAN Verification record from the income tax department, according to a tweet posted by official Twitter handle of DigiLocker- @digilocker_ind. Over 25 crore PAN card holders can now use this facility from DigiLocker website and mobile apps, the tweet further added.
DigiLocker in detail
DigiLocker is a cloud-based platform for issuance, storage, sharing and verification of documents and certificates in digital form which enables select registered organisations to provide electronic or e-copies into 'digital lockers' allotted to citizens, according to the official DigiLocker website – digilocker.gov.in.
How to get PAN verification record via DigiLocker web/app:
Via website:
1. Click on DigiLocker official website- digilocker.gov.in and sign up using your Aadhaar number
2. On left hand side, click on 'issued documents'. A bar will then pop-up stating 'Issued documents come directly into your DigiLocker from registered government departments and agencies. You can also pull documents from some partners and add to issued documents'.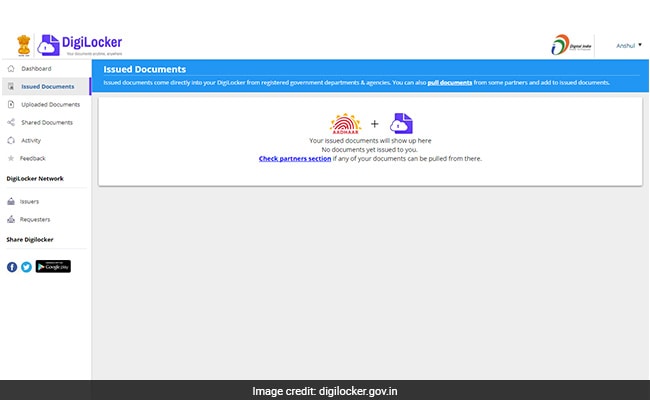 3. The message shows a hyperlink on 'Pull documents'. Click on that
4. In partner's name, select 'income tax department, Govt of India' from the dropdown and in document type select 'PAN verification record'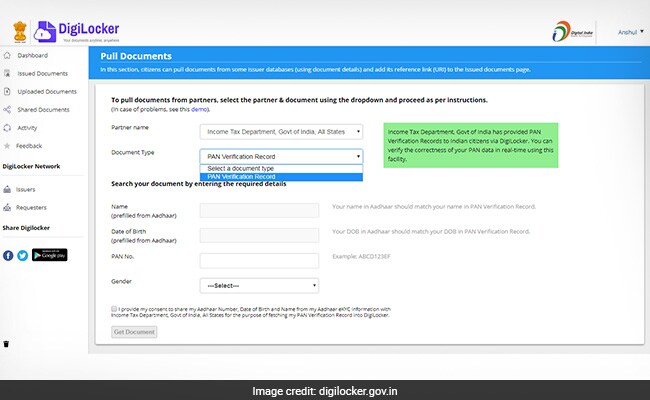 5. Go to search documents and fill details like name, date of birth, PAN and gender.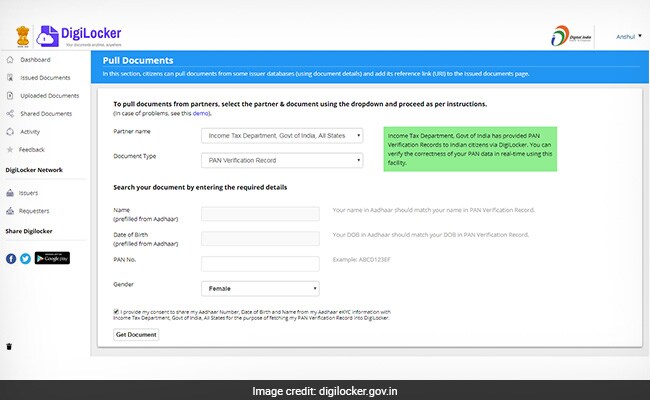 6. Now, click on 'Get document'.
7. Your PAN data will be fetched.
8. Your PAN is integrated with DigiLocker. You can view the document or save its link.
Via app:
Just open your 'DigiLocker' app, use your Aadhaar number to sign up and follow the same steps as for the website.
Source by:-ndtv
Share: